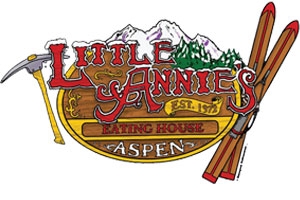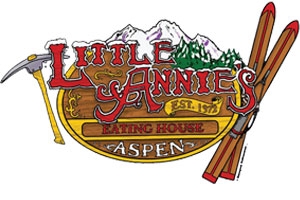 Daily Specials
Monday: $14.95 All you can eat BBQ Ribs, baked beans, cole slaw & cornbread 

Tuesday: 

$14.95

Italian...

see more »
Mon.-Sun. Fall 2015
Map

Reviews
Little Annie's Bar & Restaurant
Happy Hour
Happy Hour Drink Specials.
$4 shot & beer anytime.
3-6pm daily
×
Little Annie's Bar & Restaurant
Daily Specials
Monday: $14.95 All you can eat BBQ Ribs, baked beans, cole slaw & cornbread 

Tuesday: $14.95 Italian Special

Wednesday: $14.95 Fried Chicken, corn on the cob, mashed potatoes and gravy, biscuit

Thursday: $14.95 Mexican Special

Friday: $14.95 Steak special for Lunch

Saturday: $12.95 French Dip for Lunch

Sunday: $14.95 Annie's Benedict for Lunch 

Drink Specials along with the infamous $4 Shot & Beer everyday
Mon.-Sun. Fall 2015
×
Little Annie's Bar & Restaurant
$$
Serving: Lunch, Dinner
Hours
In Season
Lunch 11am-5pm
Dinner 5pm-close
Specials
Little Annie's Restaurant Specials, Happy Hour, News, Etc. Daily Specials on Little Annie's Facebook.This Aspen restaurant has been serving Aspen's best burger since 1972 making it the oldest consistently serving bar & restaurant in Aspen. A casual local's spot serving delicious, hearty, and well valued dishes like fresh blackened salmon, grilled ahi fillets, 16 oz prime rib dinner, elk, Colorado lamb, red trout, pasta dishes, reuben's, barbecued ribs, homemade soups, & kale quinoa salad among other tasty, healthy salads. Casual family dining with emphasis on quality & homemade dishes, dressings, and desserts.Featuring an extensive wine list and favorites beers like Fat Tire, Guinness, Stella, Ranger, with numerous other craft beers on tap. 5 T.Vs for your viewing pleasure in the bar. $4 shot & beer special daily. Happy Hour drink specials 3-6pm.
Drink Specials Daily.
×