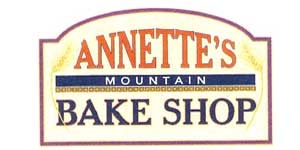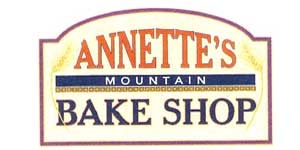 Daily Specials
Saturday is Pretzel Day! Fresh pretzels ready around 4pm
Thursday is Donut Day! Fresh donuts ready around... see more »
Map

Reviews
Annette's Mt. Bake Shop
Daily Specials
Saturday is Pretzel Day! Fresh pretzels ready around 4pm
Thursday is Donut Day! Fresh donuts ready around 4pm
Snonuts (aka cronut) Fridays at noon
Kouign-amann everyday at 10:45 am
For daily sandwich & soup specials check Annette's Facebook Page & Twitter
×
Annette's Mt. Bake Shop
$
Serving: Breakfast, Lunch, Dinner
In Season Hours
12pm-8pm Mon.-Sat.
Lunch & Dinner Sandwiches
Specials
Annette's Mountain Bake Shop is a new Aspen Bakery tucked along the Hyman Ave. pedestrian mall in downtown Aspen. Specializing in Artisan breads baked in house, focaccia, and gluten free goodies. Baked goods include muffins, cookies, French macaroons. Classic Sandwiches are served for lunch and dinner.
Fresh Italian pastries, bagels and other light breakfast items are offered upon opening.
Party breads can be pre-order for any event and come stuffed with Italian meats, four cheeses, meatballs, veggies, sausages or anything you'd prefer. About the size of 2 large sandwiches that can be sliced into a great appetizer or dinner.
Saturday is Pretzel Day! Fresh pretzels ready around 4pm
Thursday is Donut Day! Fresh donuts ready around 4pm
Snonuts (aka cronut) Fridays at noon
Kouign-amann everyday
Fresh baguettes, country bread & ciabatta daily 4pm
Look for new special sandwiches & soups of the day on Annette's Facebook Page & Twitter
Special order cakes, cookies, and party trays.
King Cakes for Mardi Gras.
×