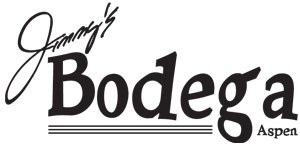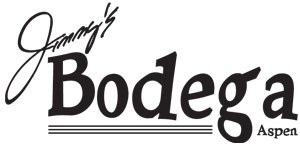 Happy Hour
Specially priced menu of Tecates, Bodega Margaritas, Calamari, Oysters, Cheeseburgers & more.
View Menu... see more »
4-5:30pm Daily

Map

Reviews
Jimmy's Bodega
Happy Hour
Specially priced menu of Tecates, Bodega Margaritas, Calamari, Oysters, Cheeseburgers & more.
View Menu below...
4-5:30pm Daily

×
Jimmy's Bodega
Bar Menu
Great bar menu offered at the bar or lounge.
View menu below.
offered nightly in season
×
Jimmy's Bodega
$$$
Serving: Dinner, Late Night
In Season Hours
Open Daily
Happy Hour 4-5:30pm
Dinner 4-10pm
Raw Bar until 10:30pm
Specials
The crew from Jimmy's American Restaurant opened Jimmy's Bodega & Mezcaleria in Aspen during the summer of 2014. offering seafood, vino, raw bar & Mezcaleria.
"Why name the new spot Jimmy's Bodega?
Yes, Bodega has several meanings; warehouse, store, cellar, wine cellar, etc.... The first place that I ever knew of as a 'Bodega' was when I first visited Teotitlán del Valle to explore the magical world of Mezcal. It was Ron Cooper's Bodega. It was more than a place where he stored and bottled his Del Maguey, Single Village Mezcals; it was also his home. We would stay at Demetrios, La Cupula, next door. Simply called 'The Bodega' was where we started every day with strong coffee and a maanita of mezcal. Then off to the villages. Always to return to The Bodega.
So Bodega in my world has always had a strong sense of 'home', as well as morning copitas of delicious mezcal. Below are some photos of Ron's Bodega. Many of the people (friends) that I have the pleasure of spending my professional career with at Jimmy's have been there too. The pictures are with Erin and Jessica during our Dia de Los Muertos visit. We arrived at 5 am and were greeted with tea and mezcal. We watched the sunrise with Ron and started another memorable mezcal adventure at The Bodega.
My restaurant, Jimmy's, has become a place with a great history as a 'home' for so many and has cultivated a true feeling of family for those who have joined us along the way. We are emotional about it and deserve to be. Over the years I too have become a part of Jimmy's. "Maybe now, Bodega, has another meaning for you too. Join us for Fresh Seafood, Ceviche, Raw Bar, Tacos, Salads, Soups, and Nightly Specials! "
Happy Hour | Al Fresco | Patio
×